Quotation Request
Quotation Request
After consulting our Products section and narrowing your search, please use the ordering
information provided on each individual product's Spec Sheet to request a quotation.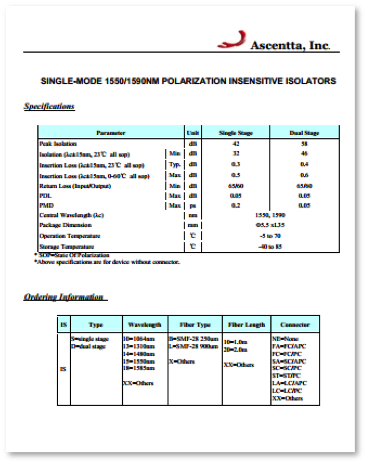 This is the Spec Sheet for SINGLE-MODE 1550/1590NM POLARIZATION INSENSITIVE ISOLATOR.
Each letter code in the Ordering Information table pertains to that specific product parameter.
Select the codes from each column that match the parameters you require. Stringing the codes
together will assemble a Part Number. This is the unique Part Number for your exact product.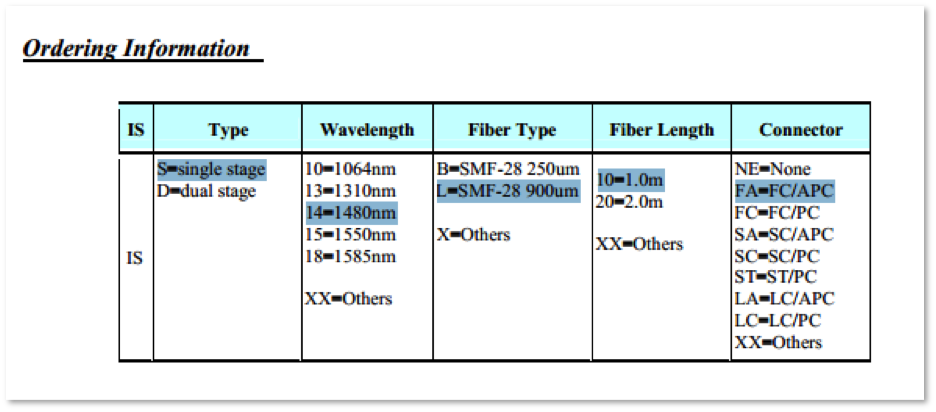 IS-S-14-L-10-FA
This is the Part Number that would be used to request a quotation for a Single Stage 1480nm
Polarization Insensitive Isolator, with 1.0m of SMF-28 900um type fiber and an FC/APC
connecter.
Send your Part Numbers to us at the method most convenient to you:
Phone: 1 (732) 868-1766
Toll-Free: (866) 451-6600
Fax: (732) 868-1769
E-mail: sales@ascentta.com
Please allow a 24-hour time window for us to process your request. An official quotation will be
sent to you via email.
If you did not find a suitable product to meet your needs among our standard selection, please
contact us about our Custom Design services in the Solutions section.
Thank you for allowing Ascentta to be your fiber optics service provider.